Target Corporation is an American retailing company, founded in 1902 and headquartered in Minneapolis, Minnesota. It is the second-largest discount retailer in the United States, Walmart being the largest.
The first Target store was opened in 1962 in Roseville, Minnesota. Target grew and eventually became the largest division of Dayton Hudson Corporation, culminating in the company being renamed as Target Corporation in August 2000. Target operates 1,934 stores in the United States; it operated 127 locations through its Canadian subsidiary. By 2015, it had 133 stores in Canada, but on January 15, Target announced that it would be closing all of them, putting 17,000 out of work.  In December 2013, a data breach of Target's systems affected up to 110 million customers.
Target is one mass merchant I will shop at because their prices are better than the drug chains and their stores are usually clean and well-merchandised.  The data breach definitely impacted their sales and so will the money lost on the failed Canadian experiment, but I expect they'll be around for a while.   I mean where else can you find a lovely ceramic elephant for only $19.99?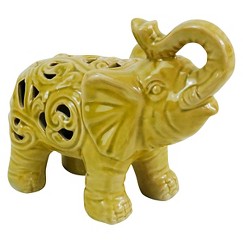 If you have a story about Target or wish to recognize someone that worked there,  comment here and it will be added to the page.