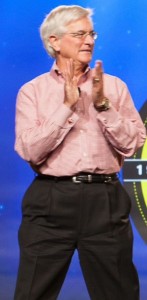 In case you miss working for Rick Dreiling, he is looking for a new CFO at Dollar General.
Qualifications:  Must like the movie Hoosiers.
Must not like scotch tape.
GOODLETTSVILLE, Tenn. — Dollar General announced Thursday that David Tehle, EVP and CFO, will retire from Dollar General effective July 1, 2015.
"David has served as our CFO for nearly 11 years as Dollar General's annual revenue grew from $7.7 billion to $18.9 billion and our store count grew 61%," stated Rick Dreiling, Dollar General chairman and CEO. "His financial acumen, partnership and leadership have been instrumental in transforming Dollar General. During his tenure, David played a key role in Dollar General's going private transaction in 2007 and our return to the public equity markets in 2009. While I am sad to see him leave, David is a good friend of mine and I am happy for him as he retires. We wish David and his family the best in the future." 
"Dollar General is a great company with a very bright future. The accomplishments at Dollar General have clearly been the highlight of my career and it has been a privilege to work with such an outstanding team. The time is right for me to plan to spend more time with my family," Tehle said.
Prior to joining Dollar General in June 2004, Tehle spent seven years with Haggar Corporation as EVP and CFO. He held leadership positions with several world leaders in manufacturing, including VP finance for The Stanley Works, Mechanics Tools Division, and VP finance and CFO for Hat Brands. Tehle gained 12 years of financial experience through management positions at Ryder System and through various financial and accounting positions at Texas Instruments. He has served as a director of Jack in the Box since December 2004.
Dollar General has started a search for a successor and will consider both internal and external candidates for the job.